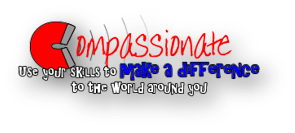 One of the words you rarely ever hear used to describe computing lessons is
compassionate
but it's one of the
6 reasons
why I love teaching computing.
One of the Computing projects that students do in Y7 at Fulford School is a Game Design project. Each student chooses a charity that they care about and then creates a plan for a game which will raise awareness of what that charity does. They have to sketch out a what the game will look like, how to play it and why they've chosen that charity before creating, testing and reviewing each other's games.
I find that students put loads more effort into into a game if it's connected to a cause they're passionate about than they would for some random project and I've been really impressed with the quality of the games that they've produced.
Some of the best students in that project have agreed to become ambassadors for this site. They've agreed to collect keywords and definitions for other school subjects and publish them here to help other students learn. In return, they get to choose which charities to donate money to that is raised by this site.
This site is completely free to use, but contains some "Related Content" adverts at the bottom of each page. Adverts are easily blocked in schools for students but when a teacher clicks on one of these links it will generate a small amount of money from Google's AdSense revenue which the student ambassadors can then donate.
The plan is that students will keep track of how much money these adverts raise and then donate the money to a different charity each month
I don't know how much they'll be able to raise but the idea is to empower students to use their tech skills to make a small but positive difference to the world around them.
Ultimately, I'd really like students to be able to create their own games on this site but that's a long way off just yet...
More details will be published here shortly.